Previous projects


Before designing products, I worked as a Product Manager, and a few years ago as a Consultant. I learned to code in 2017 and have been working in freelance since 2016. Here is a selection of product-related projects carried out so far.


A line: Helping companies discover, search and select talented freelancers

A line is a two-sided marketplace that connects companies with a selection of talented freelancers for communication projects.
https://www.aline.work/
Role
: Product Manager
Year
: 2018
Due to several changes on the product since its creation, the connection between customers and freelancers was mainly made manually with the support of the customer success team. This process could not bear any longer the growth of the company.
I worked with the co-founders on the building blocks of the new platform, especially the way companies discover, search and, select freelancers for their projects.
Companies can search freelancers by skill, industry, or a specific brand.
They can also create a brief without selecting any freelancer.

The challenge was to align everyone with the product vision (co-founders, marketing, operations, tech) while still navigating through a lot of assumptions.
Process
User research and product vision: survey, market analysis
User experience design: user journey, user flows, wireframes

Prototyping, user tests (19) and iterations

Feature specifications
Early pen-and-paper wireframes
Some parts of the project have been shipped and are visible on
few public pages
of the application, the other parts are still under development (updated in spring 2019).
Main personal lesson learned
: The more assumptions you have, the more valuable your time spend with your users.
---
A new menu
reorganisation for Zest

Zest is a real-time employee engagement SaaS solution
https://zestmeup.com/fr/
Role
: Freelance Product Manager
Year
: 2017
Some users suffered from an illogical organization of the menus on the platform. These inconsistencies came from a historical debt due to the rapid evolution of Zest.
I worked on five recommendations, which consisted of logical regrouping, displacements, status creations, and new wording.
Mockups with the new menu organisation

The mission was limited in time and resources. I did neither have access to users nor to data from the base at this time. I used my fresh and naive perspective on the product and benchmarked other leading SaaS products to build a coherent menu organization.
Process
Diagnostic of the user experience
Benchmark with other leading SaaS products
Recommendations and mock-ups
The recommendations have been implemented on
the platform
, but unfortunately, no impact analysis was carried out after the end of my mission.
Main personal lesson learned
: It's hard to improve something that you can't measure.
---
Choogle

Choogle is a simple website that help to collectively choose a bar, a restaurant, a holiday destination or any other place. It's a side project started during a coding bootcamp (
Le Wagon
).
https://choogle.herokuapp.com/
(No longer maintained)
Role
: Web Developer Student
Year
: 2017
Group decision making is always a mess whether you have to choose your next holiday destination with all your friends, a restaurant, or a location for your annual team retreat.
We built a simple tool where everyone can suggest a number of locations - e.g. 4 bars, 3 destinations for the weekend - and invite participants to upvote their favorites in a given time. At the end of the deadline the most upvoted place is automatically chosen.
Participants are prompt to vote
before the end of the timer
Everyone with the link can
upvote his/her favorite destination
Participants can discuss with a chat
Process
Product thinking (5%)
Roadmap (5%)
Feature design (10%)
Back-end development (20%)
Front-end development (60%)
Main personal lesson learned
: Building the right product (product design and product management) and building the product right (product development) required two very different mindsets. I have the first one.
---
Marcel
Marcel was a digital consumer to consumer lost and found project developed for
Le Group La Poste
Role
: Project Leader
Year
: 2016
You have probably already lost a valuable item in the public space, either it is your keys, your handbag, your scarf or the Teddy Bear of your loved one. Even if we are (almost) all connected with digital devices, it's still very laborious to recover an object lost in the street.
Marcel's ambition was to build a way to easily report lost items on the one hand and found ones on the other hand. To test our assumptions, we decided to run a first limited version of the product using mainly Facebook and Messenger to manually collect and match reports of lost and found items.
A conversational interface allow everyone
to report a lost or found item 24/7
Marcel ask more information
about the location of the lost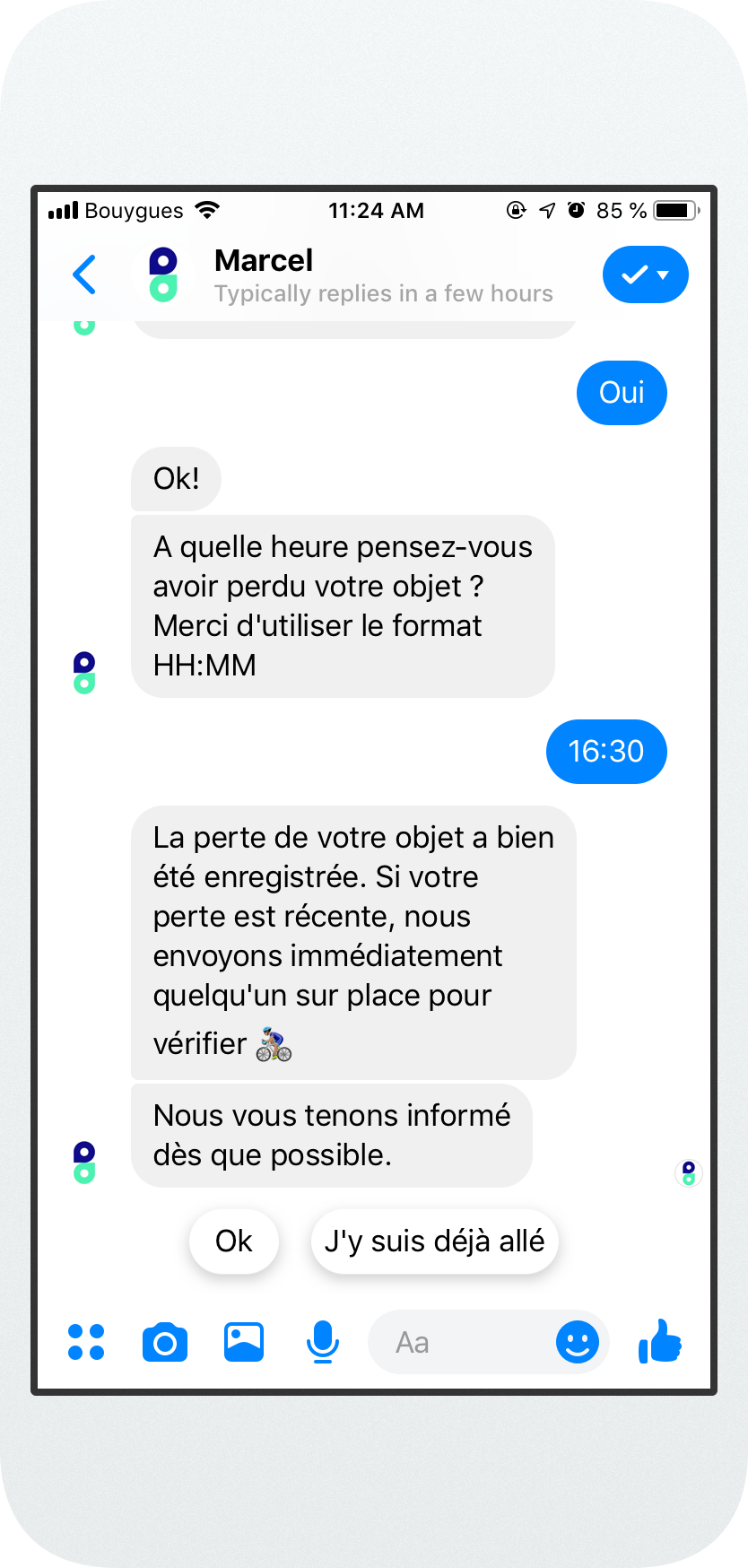 Marcel ask more information
about the time frame of the lost
The challenges of this project were to build the required minimum network to run the service, the problem of the natural low frequency of use of the service (people do not lose items every week) and therefore the not-obvious business model (are people willing to pay to recover their items?).
Process
We learned that there are too many hazards between the lost of an object and its reporting and decided to shut down the service after a few weeks.
Main personal lesson learned:
Fake it until make it