Bandcamp -
iOS App Redesign
Unsollicited project (2019)
OVERVIEW

Too long? If you don't have the time to read the full post, you can see a shortened visual version on my

Behance

.
After working on the Airbnb self check-in project at the end of 2018, I started in February a new unsolicited redesign project in order to deepen my Product Design skills.
As a Product Designer, making great products that solve people's problems is the priority. But it doesn't come out of nowhere, and this priority is always surrounded by the company culture, believes and mission.
Bandcamp is an online music store and promotion platform for independent artists founded in 2008 by Ethan Diamond. The company has a radically different view of the music industry compared to big players like Apple Music or Spotify who are subscription-based streaming platforms. They believe people want to support the artists they love and the best way to do so is to pay them directly. (If you want to understand in depth how and why Bandcamp is different, have a look at this
great talk
from Ethan Diamond.)
I decided to work on the Bandcamp iOS app for fans for two reasons. First, I believe every Product Designer should be able to translate a company singular vision into a product, and in this way, the Bandcamp case study is a really nice challenge. Second, I have always loved independent music myself, and I use Bandcamp a lot.
About the project:
During the research phase, I discovered that users mainly use Bandcamp to buy music and rarely use the app to listen to or discover music. I highlighted that the app is currently not designed to be used daily and users complain about usability issues and require some basic features that are missing.
The solution:
I worked on a better distinction between music discovery on one side, and the possibility to stay up-to-date with artists and labels users already loved on the other side. My redesign includes prerequisite features for a frequent use of the app like the ability to purchase digital music and manually download albums or tracks.
My role:
Product thinking, User Experience Design, Interaction Design, Prototyping, User Testing
---
About the company's vision

Instead of starting with the classic double diamond model of design (finding the right problem, then finding the right solution), I started my work by understanding and expressing the company's vision. Fortunately, Bandcamp has quite a transparent culture, and I could find a lot of information on their website. Ethan Diamond also published well-detailed articles on what's going on with Bandcamp and his talk from 2014—mentioned higher—was very useful. Here is an excerpt of the about page that nicely sums up these foundations:
"Bandcamp's mission is to create the best possible service for artists and labels to share and earn money from their music, and for fans to discover and enjoy it.
We believe that music is an indispensable part of culture, and for that culture to thrive, artists—no matter the size of their audience—must be compensated fairly and transparently for their work. Without this belief, our mission would be meaningless, and it's why we've built our business around a model that puts the artist first.
When you buy something on Bandcamp, whether it's digital music, vinyls, or a t-shirt, tickets or cassettes, 80-85% of your money goes to the artist, and we pay out daily. The remainder goes to payment processor fees and
Bandcamp's revenue share
, which is 10-15% on digital items, and 10% on physical goods.
Since we only make money when artists make a lot more money, our interests remain aligned with those of the community we serve. It's a straightforward approach, and one we're happy to say works well. Fans have paid artists $354 million using Bandcamp, and $7.2 million in the past 30 days alone. We were founded in 2007, have been profitable since 2012, and
we're growing rapidly
. Bandcamp is used by millions of fans around the world, and is an indispensable tool for hundreds of thousands of artists and more than 3,000 labels."
Product and design implications for the Bandcamp iOS app for fans
On the fan side, Bandcamp's mission is to help everyone discover artists they love, and artists they love enough to support them by buying their music and merchandising. The New York Times called Bandcamp "one of the greatest underground-culture bazaars of our time." Indeed, I can't count myself the number of time I discovered a nice album without knowing the artist before listening to it on the platform.
Since Bandcamp hosted a massive amount of releases (more than
600,000 artists have sold something through the site
and
500 bands set up a Bandcamp page every day
), the platform is becoming a place to discover music and not just a way to support artists you already know. A lot of features have been released in this way these last years and Bandcamp started in 2016 a great
writing and editorial work to
highlight artists, labels and subcultures through Bandcamp Daily.
---
About the problem space

I did not have access to any user research from Bandcamp. The only official input I had is
The Bandcamp 2017 Year in Review
(nothing was published for 2018). I needed to find Bandcamp users to get a better understanding of why and how they used the platform and what's their main problem with it.
User research
I started my research by reading the
Bandcamp subreddit
which has 4100 subscribers with an average of 4 posts a day. A wide range of topics was addressed on the subreddit, including new releases, tips for artists, promo codes, or questions concerning the use of the platform.
Through these conversations, I found that searching for music on Bandcamp can be difficult and it has been issued frequently. Here are a few quotes picked up from some of the conversations:
Someone even built a
search tool
to find music that matches multiple criteria. A few years ago, another software engineer and Bandcamp user built an algorithmic recommendation system to find out music that could fit his tastes. The tool was shut down in 2017. Bandcamp now shows album recommendations at the bottom of album pages, but the feature is inconspicuous and only available on the website, not the mobile apps.
Alongside these first insights on music discoverability, I interviewed 5 users by phone or face-to-face. Of course these 5 people didn't constitute a representative sample of the population using Bandcamp but what I learned with them was interesting though. Here are some information about the interviewees (the name have been changed):
Fabien

Age: 26
Favorite genre: He listen to a wide range of music
Collection size: 2
Wishlist size: 0 (he doesn't have an account)
Paul

Age: 26
Favorite genre: electronic, jazz, hip-hop, alternative
Collection size: 13
Wishlist size: 466
Following: 313
Sylvère

Age: 28
Favorite genre: electronic, club
Collection size: 144
Wishlist size: 3
Following: 103
Chris


Age: 29
Favorite genre: electronic, ambient
Collection size: 91
Wishlist size: 193
Following: 189
User insights
Insight #1: Users mainly use the platform to buy music and never or rarely use the app to discover or even to listen to music.
This seems a bit surprising for an online music company whose mission is to help people discovering and purchasing music.
The user flow of a subscription-based music streaming service like Spotify or Apple Music is quite simple: you discover a music through an external source (a friend or a media for example) or an internal one (a personalized recommendation, a playlist, the release of an artist you follow, etc.) and then you listen to it on the app. All you have to do is pay a monthly subscription.
The user flow on Bandcamp is different because you pay the artists you want to support directly, and for every single music or album. But before paying them, you also have to discover the artists and listen to their music. It appears that these two previous steps occur mainly outside of Bandcamp for the 5 people I interviewed.
Discovery and first listening occur outside the platform
Sylvère, as an amateur DJ, uses Bandcamp because he can find and download his favorite tracks in high quality for his mix. He mainly discovers and listens to music on Soundcloud where he follows more than 1000 artists, mainly electronic producers and/or DJs. When he wants to mix a track he discovered, he tips the name of the release followed by "+ Bandcamp" on Google to go directly on the related Bandcamp page to buy it. He doesn't even use the wishlist feature and keep several tabs open in his web browser until he buys the release. Although he bought 144 tracks, EP or LP on Bandcamp and installed the Bandcamp iOS app on his iPhone, he never listened to any of them on the app. External discovery, external listening, purchase on the Bandcamp website.
Chris likes to listen to some ambient albums while working on his computer. He regularly reads music columns posted on an online website by a passionate writer. Every post embeds the related album with the Bandcamp player. After a few free listening over a period of several days on the Bandcamp website (the number of free streaming is capped, after that, you have to buy the music) he decided to buy the album to support the artist. Afterward, he realized that because he bought the album, he was now able to listen to it offline directly on the app.
The music discovery process and the first listening rarely pass through the product, not to mention through the mobile app. Is it a problem? Not really, that's a good thing if you can discover music through curator, editors or people you trust. Is it an opportunity for Bandcamp? Yes, I think it is, and maybe a big one if Bandcamp wants to bring its platform to an even bigger audience. To recall the term used by the New York Time, Bandcamp is "one of the greatest underground-culture bazaars of our time". Everyone can find something that suits their tastes in a bazaar, but it's the way to find it that can be complicated. What if we help people easily access this bazaar? I guess this problem and this opportunity is well known by Bandcamp. But, with the interviews, I also understood that the iOS app is actually not designed for listening on a daily basis, and that's a prerequisite for discovering music.
Insight #2: Users complain about usability issues and require basics features for daily listening
As of December 2018, Spotify and Apple Music reported respectively 96 and 50 millions subscribers, not to mention free active users. Users are getting accustomed to using best in class user experiences on their mobile apps. During the research phase, all the interviewees, who all use other music services besides Bandcamp (Soundcloud, Spotify and Apple Music), spoke about usability issues and sometimes the lack of "basic" features on the app.
Arron told me that his main problem with the Bandcamp app is that he can't create playlists. Arron's collection is 207 releases large, and he has to search in it every time he wants to listen to a specific music. It could be tedious. Arron also told me that digital albums are not available for purchase on a mobile device while physical ones and merchandising are.
Paul, who takes the train every day, told me that he doesn't like the mobile app because he can't download music to listen offline. That's an interesting point, because you can actually listen to every music you bought offline. Indeed you can't listen to music in your wishlist and if you bought them, you don't have a clear clue or "signifier" like on Spotify or Apple Music to explicit that the music has been downloaded on your device. Instead, you only have offline access to music that has already been played online on the app, thus being downloaded to be available offline. You can easily end up with no data connection and disabled songs without understanding the reason.
Sylvère, who mainly uses the website explained having never been convinced by the Bandcamp app. He started to navigate the app during our interview to remember the reasons. I understood that he found it really complex. For example, on the homepage, he spent some time trying to understand the difference between the "featured" tab and the "music feed." Within these tabs, he wasn't able to fully understand what's actually behind "new and notable" or "suggested in bass-music." Who did the selection? How?
Thinking about these issues, I dug into the app store reviews. For the last 90 days, the iOS app received 122 reviews, 38% of them (47) were critical (1 or 2 stars). Most of them were about the lack of an iPad compatibility, but beside this problem, I gathered a number of usability issues or "basics" feature requests. Some of them had already been highlighted during the interviews, and some of them are new. Here are some extracts from the app store:
Negative reviews collected on the app store

Even an artist highlighted these problems: "it's increasingly frustrating to point potential fans to Bandcamp because it's interface is so foreign to people that are used to other streaming services."
Negative review from an artist, collected on the app store

As a conclusion for this second inside, I would use the words of a Bandcamp user found in a review:
Bandcamp rocks, the app doesn't.
What people problem are we trying to solve?
During my researches, I discovered that users mainly use the platform to buy music and rarely use the app to listen to and discover music. I also highlighted that the app is currently not designed to be used every day and that users complain about usability issues and require basics features. Working on the discovery process alone (i.e., helping people easily access the "bazaar") is useless if the app is not designed to be used for daily music needs. That's a prerequisite for discovering more artists you love, and that's the focus I choose. So the question is:
how might we help Bandcamp users listen to and discover music on the app on a daily basis?
How do we know this is a real problem?
We didn't have access to any Bandcamp user data. However, the insights we collected on Reddit, the 5 interviews we did, and the feedback collected on the app store are enough to let us think that there are some problems with the Bandcamp app, especially if you want to use it to listen to music everyday.
How will we know if we have solved the problem?
This app redesign aims to offer a better daily listening and discovering experience. The following metrics will need to be analyzed to understand if the problem will have been solved:
number of critical reviews and average rating on the app store
number of daily active user on the app
listening time on the app
% of music bought from an internal discovery source
---
About the solution space

To kickstart this second phase, I started to use on a regular basis the main music applications that I have not used so far: Spotify, Apple Music, and Amazon Music. I subscribed to every premium offers, followed the artists I like, added some albums to my library and explored their products by listening to music on these apps every day. Even if these giant companies don't offer the same services and are not on the same market as Bandcamp, it was necessary to use their products because they are shaping the music industry and the way people interact with music. The users I interviewed were also using these platforms on a daily basis.
I started to build an artboard with a lot of screenshots I took while using the apps, trying to understand what works well. I also tried to highlight generals trends in the way we interact with music and the differences between each platform. I ended up with a list of quite everything we can propose on a music application and started to assess how it could help Bandcamp users to listen to and discover music on the app on a daily basis while still being in the line with Bandcamp's vision of the music.
Design process
I started to outline my proposition with pen-and-paper sketches first, and as soon as I felt that I have something interesting enough to test with users, I built a prototype.
Early pen-and-paper sketches of the "Home" section
The experience I wanted to build used a lot of mobile gestures which are keys for navigation. So I skipped the low-fidelity, screen-to-screen prototype to build a high-fidelity one.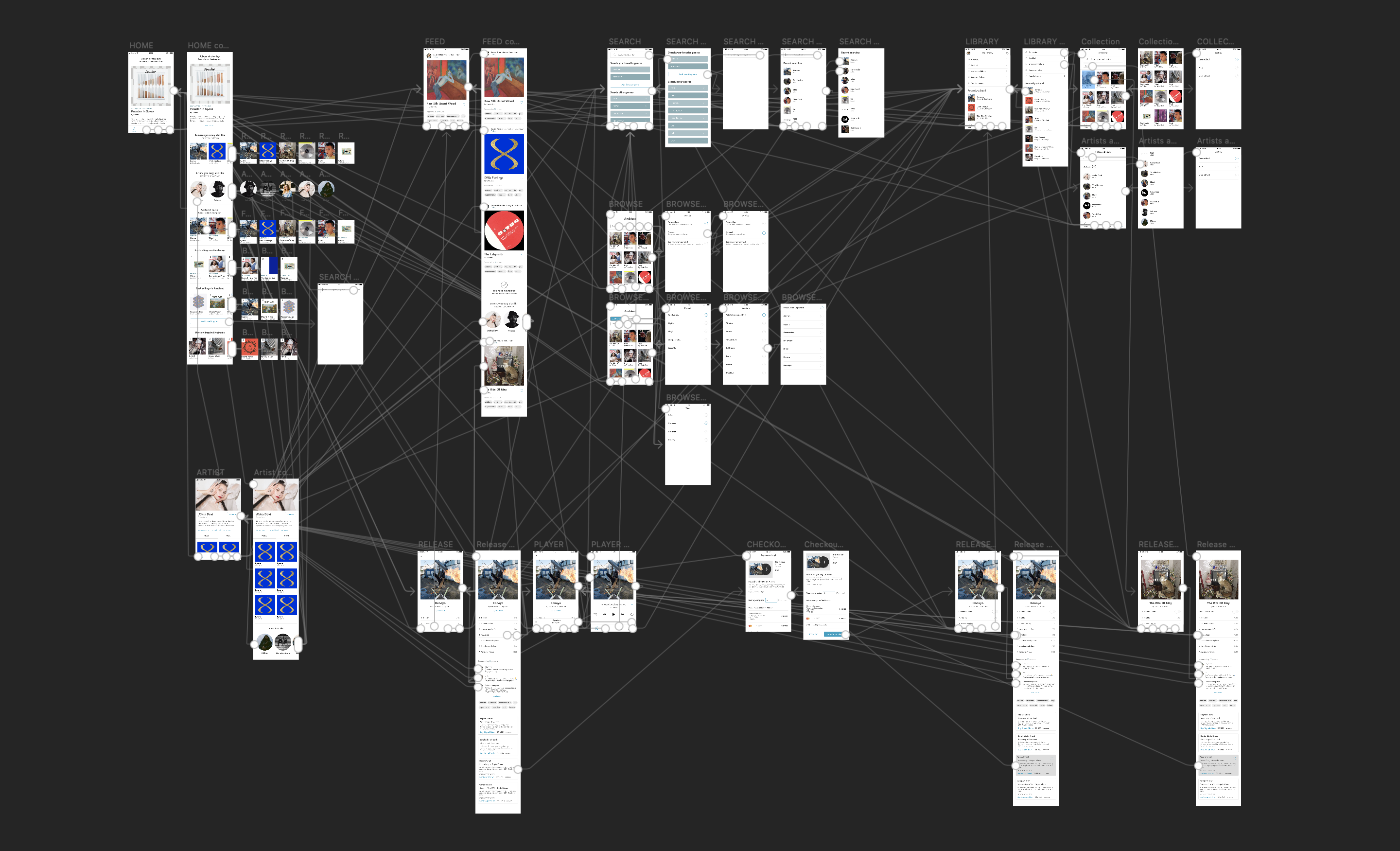 All screens, components, and relations used to build the prototype

I recontacted the Bandcamp fans I interviewed previously during the user research phase and gathered their first feedbacks to iterate on the prototype.
Design opportunities
Technology has made music extremely disposable: anytime and anywhere. It has been the founding motto of Spotify for years. The subscription-based streaming model withdraws the act of payment you have at the artist level. On the other side, Bandcamp believes that artists must be supported directly and transparently by fans. These very different philosophies of music consumption have raised several questions during my work.
One good example is the playlists. Some of the users I interviewed during the user research complained that there were no playlists on Bandcamp. The reflex of a Product Designer would have been to size this need, and if the results have been significant - i.e. a lot of Bandcamp users request playlist - to build a prototype with playlists. But this is not what I did because it didn't fit with Bandcamp's vision and believes. Creating a playlist system will add an extra layer in the relationship users have with artists.
With a playlist they are not listening to a body of work anymore, they are listening to a succession of individual songs, sometimes without any consciousness of the artist behind. It puts aside the art of album sequencing and story-telling, and of course, it doesn't get with Bandcamp's idea of putting "the artist first."
I won't detail here every single product tradeoff I made. Instead, I will highlight some of the most important changes that are all required to listen to and discover music on the app, on a daily basis.
Global reorganization of the app
Current

At the app level, the information is currently organized with a five-section tab bar: "home", "search", "profile", "Bandcamp weekly" and "player".
Proposition

I reorganized the main navigation with a four-section tab bar: "home", "feed", "search" and "library".
I took the Bandcamp weekly podcast and the player out of the tab bar:
Even if I don't have quantitative data of the Bandcamp podcast's use, this content is not on the same level as the other main sections of the application.
Currently, the "player" tab is disabled when no music is played. That's not a good practice because the interface becomes unstable and unpredictable for the user. The player has been relocated on the top of the navbar and appears when the music starts playing.
I named the "profile" tab (the one with a heart icon) "library" which is easier to understand. I also chose an appropriate icon to avoid confusion with the wishlist feature which already used the heart icon.
Finally, I separated the music proposed by Bandcamp (previously the "featured" tab in the "home" section) and the new ones from artists or labels you already follow (previously the "music feed" tab in the "home" section) in two distinct sections within the main navigation level (navbar). The "home" section is focused on music discovery and the "feed" section is focused on the artists, labels, and fans you already follow to stay up-to-date with their latest news. This music feed will be detailed later.
Fans can manually download music for offline listening

Current
On the current Bandcamp app, you can listen to any music you bought offline, but the music has to be played online to be charged on your device beforehand. Of course, not everyone is aware of that because it is never explained, nor explicited on the interface.
Proposition
To solve this problem, I added the possibility to manually download a release with a simple switch. You can also access your downloaded musics with a dedicated section in your library.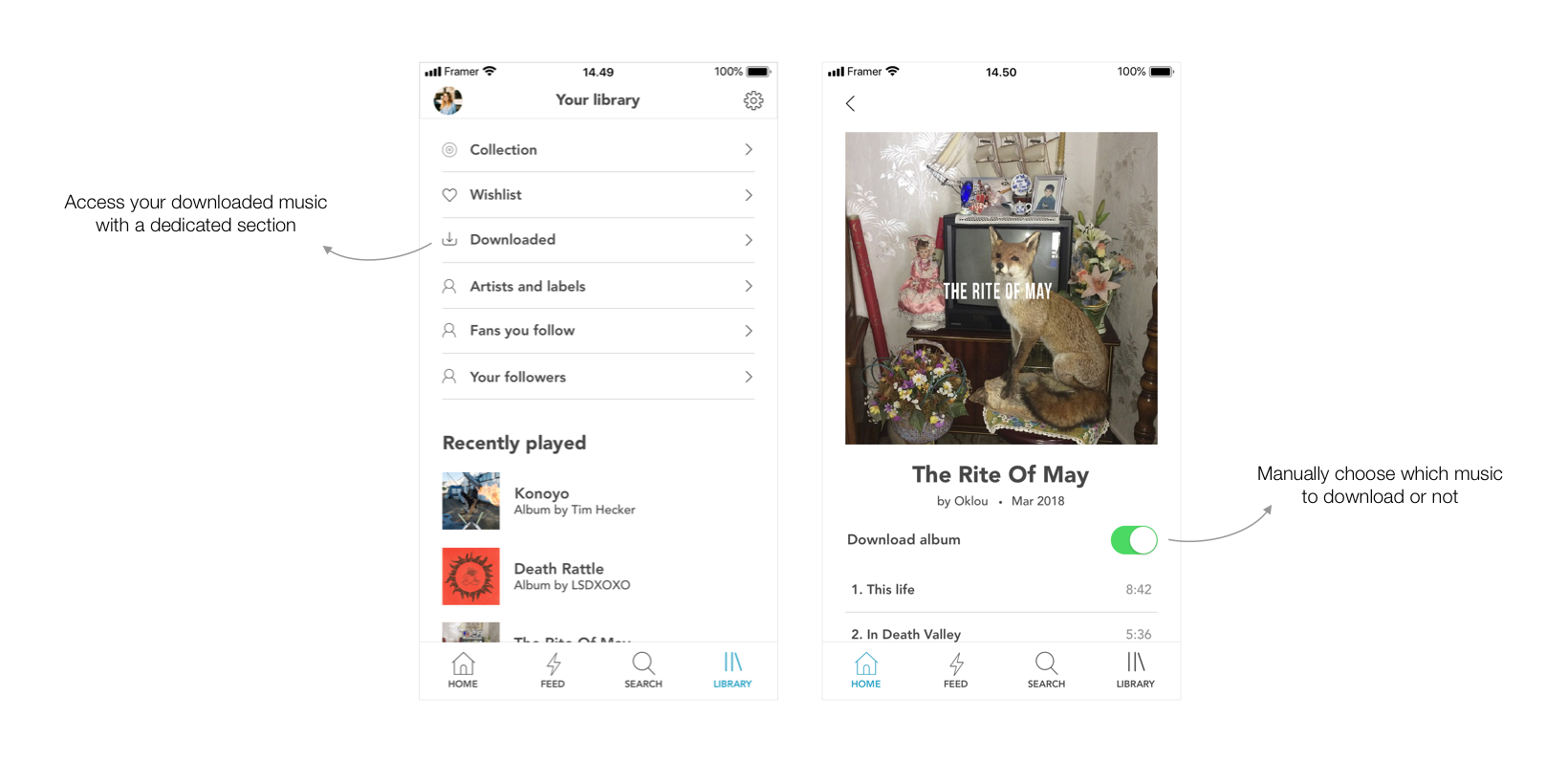 These two changes will ease offline listening which is crucial for creating daily habits, especially in cities where commute don't offer data connection.



Fans can discover artists and musics through personalized recommendations

Current

Bandcamp recommends music on their website, but not on the iOS app. The recommendation system is based on a collaborative filtering approach that uses the number of commons fans between two releases. The editorial team also manually recommends linked releases.

Proposition

To help fans discover music and artists they might love in the deep catalogue of Bandcamp, my app redesign includes this recommendation tool and introduces two new ones.




Releases you may also like

Based on the collection of music already bought, we can offer music recommendations personalized for each fan, using a collaborative filtering approach. I won't get into more detail on this point because it could be a study in itself and that's not the point.
Artists you may also like

Based on the artists already followed we can recommend other similar artists. I located this recommendation tool in the "home" section which is, in my redesign, used for discovering new music.
I also add the artist recommendation tool in the "feed" section to encourage users to follow more artists. The feed will be detailed later.



Fans can buy digital music on the app


Current

It sounds strange for an online music store in 2019, but actually, you can't buy digital music on the iOS app. On the other side, you can pre-order or buy physical releases (vinyl, compact discs and cassettes if available) and merchandising. There are probably many reasons, but in a user point of view, this is not understandable.

Proposition

From the album page, you can now buy digital album or single digital track with a simple checkout.

Fans can stay up-to-day with the artists they love with a new music feed
Current
As mentioned in the research phase, the difference between the "featured" tab and the "music feed" tab in the current "home" section is difficult to understand. The way the "music feed" works remain elusive. To shed light on this point, here are three cases that lead me to say that the current "music feed" does not its job properly, which is keeping fans up-to-date with news from artists, labels or fan they follow.
In the first case below, an album announcement from an artist I don't know and don't follow appears in my music feed. Therefore, I don't understand why I have this content in my music feed which is supposed to display only content related to artists and labels I follow, so content whose I'm accustomed to the source.
In this second case, I learn that an artist I don't know and don't follow released an album three days ago. Actually, the artist released the album on a label I follow on Bandcamp. When I click on the artist name, I'm redirected to the label page. Even the picture used in the music feed is from the label, while the name used in the headline is from the artist. The reason is that not every artist have a proper Bandcamp page and labels can nonetheless publish the releases.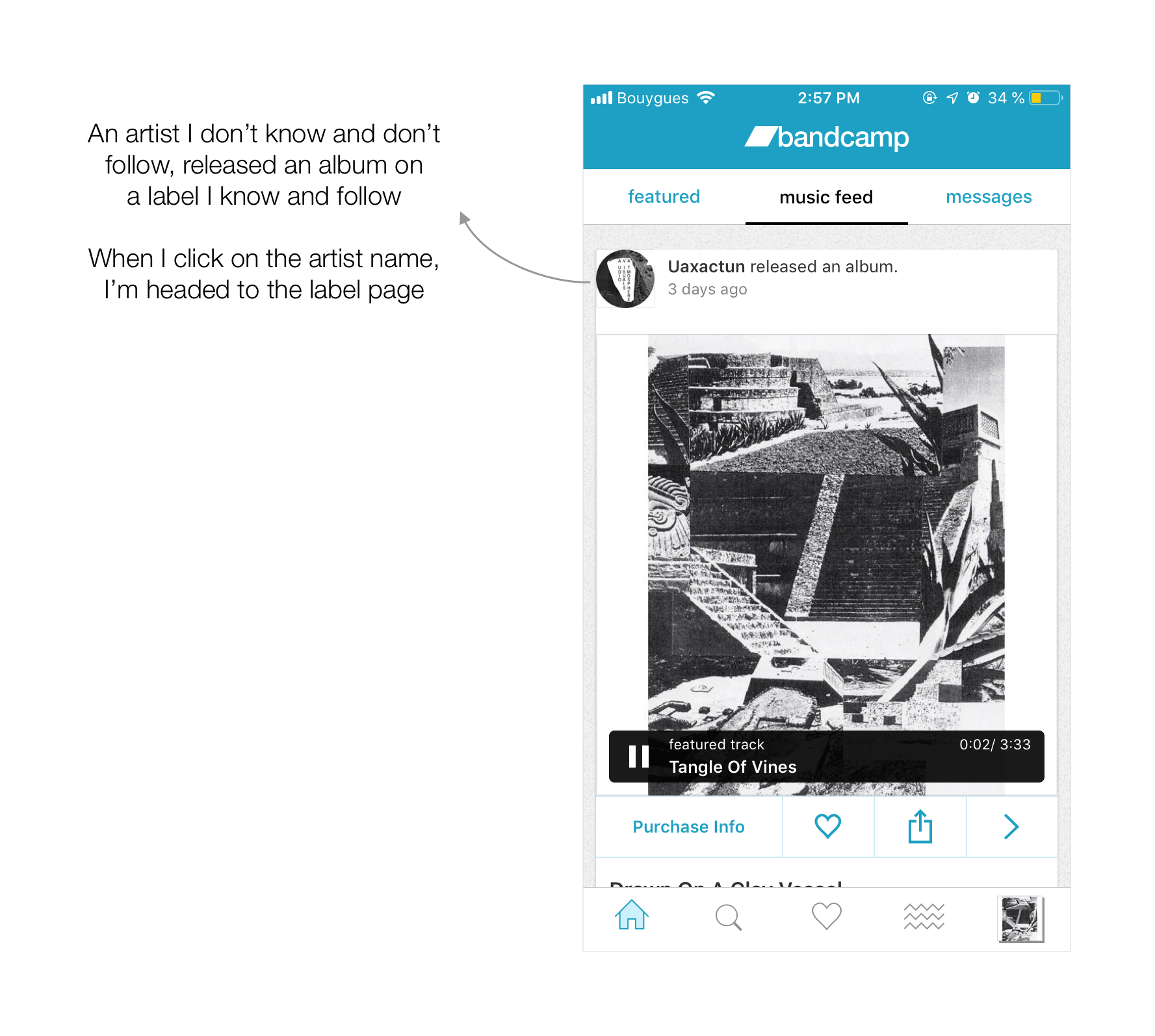 Another case that leads to the unfamiliar feeling created by the current music feed is the excessive use of the feature "another fan also bought."
Bandcamp uses this feature to build relationships between fans who have items or followers in common. No one of the users I interviewed used this social mechanism, and even if the sample of interviewees is not fully representative, I think that this feature affects the quality of the music feed. For this precise example, this action (another fan also bought this specific album) appears 19 times (that means 19 different cards) in my feed in the last 4 days. It makes up for 40% of the total content (19 out of 46 items). It's a lot of useless content if you keep in mind that the main goal of a music feed is to stay up-to-date with news of the artists, labels, and fans you follow.
To solve the problem that these three cases raised, we can follow two simple rules:
Only publish content from artists, labels or fans followed by the user.
Only use the pictures and the name of the artists, labels or fans followed by the user. For our second example, it would have been clearer to use the label's name instead of the artist's name.
Proposition
The new music feed I propose is a landmark available in one tap from the tab bar. It displays only content users are familiar with (artists, labels, and fans you follow) and if they don't follow enough account, they are prompt to do so with the artist recommendation tool. Inspired by Instagram, I also added a "you're all caught up" message when fans have seen every post from the last two days. It could help them keep track of already seen posts and know they haven't missed any important releases of one of their favorite artist or label. The news feed proposition is visible in the second video below.
Details of the final proposition
As explained previously, I couldn't write in this post all the detail of every change I made for this redesign, but you can have a look at the final proposition in the following videos. It wasn't my priority for this project, but you can see that I also refreshed the visual aspect of the user interface. Fans can discover music on the "home" section through hand-picked selections, best selling, and personalized recommendations. Fans can stay up-to-date with the artists they love every day with a new, clean and efficient music feed that they can read with confidence. They can, of course, buy digital albums and single tracks on the app and manually chose to download them for offline listening.
---
Conclusion


During the research phase, I discovered that users mainly use Bandcamp to buy music and rarely use it to listen to or discover music. As the app is currently not designed to be used every day, I choose to focus my work on prerequisite features related to the purchase and the listening experience. I proposed a new organization that could drive more engagement with a better distinction between music discovery and the possibility to stay up-to-date with artists and labels you already follow.

This redesign and the related assumptions need to be backed with Bandcamp's data to be validated. In that case, it can be used as a new product vision able to meet broader users expectations while still being perfectly loyal to Bandcamp's vision that puts the artist first.

Additionally to the people problem, we can't ignore Spotify's initiative called "upload beta." Over the previous year, the streaming platform has struck direct licensing deals with a few independent artists. Right now, they are testing these features with a small group of artists and plan to expand availability. The topic of this project, which aims to move Bandcamp toward a music application used everyday, seems even more legitimate in this ever-shifting environment.



Personal lessons learned

Building a great product and a great company is not only listening to people, it's also bearing in mind your convictions and your ambitions. With this project, I learned a lot about the relation between the moto of a company and the decision behind the user-facing result on the interface. Maybe it is because of my product management background, but I believe that every Product Designer should be a strong product thinker and that every product thinker should also get its hands dirty. It needs stretching, but for me, that's a good definition of a Product Designer.

If you are interested in this project, feel free to contact me at bergantz.clement@gmail.com