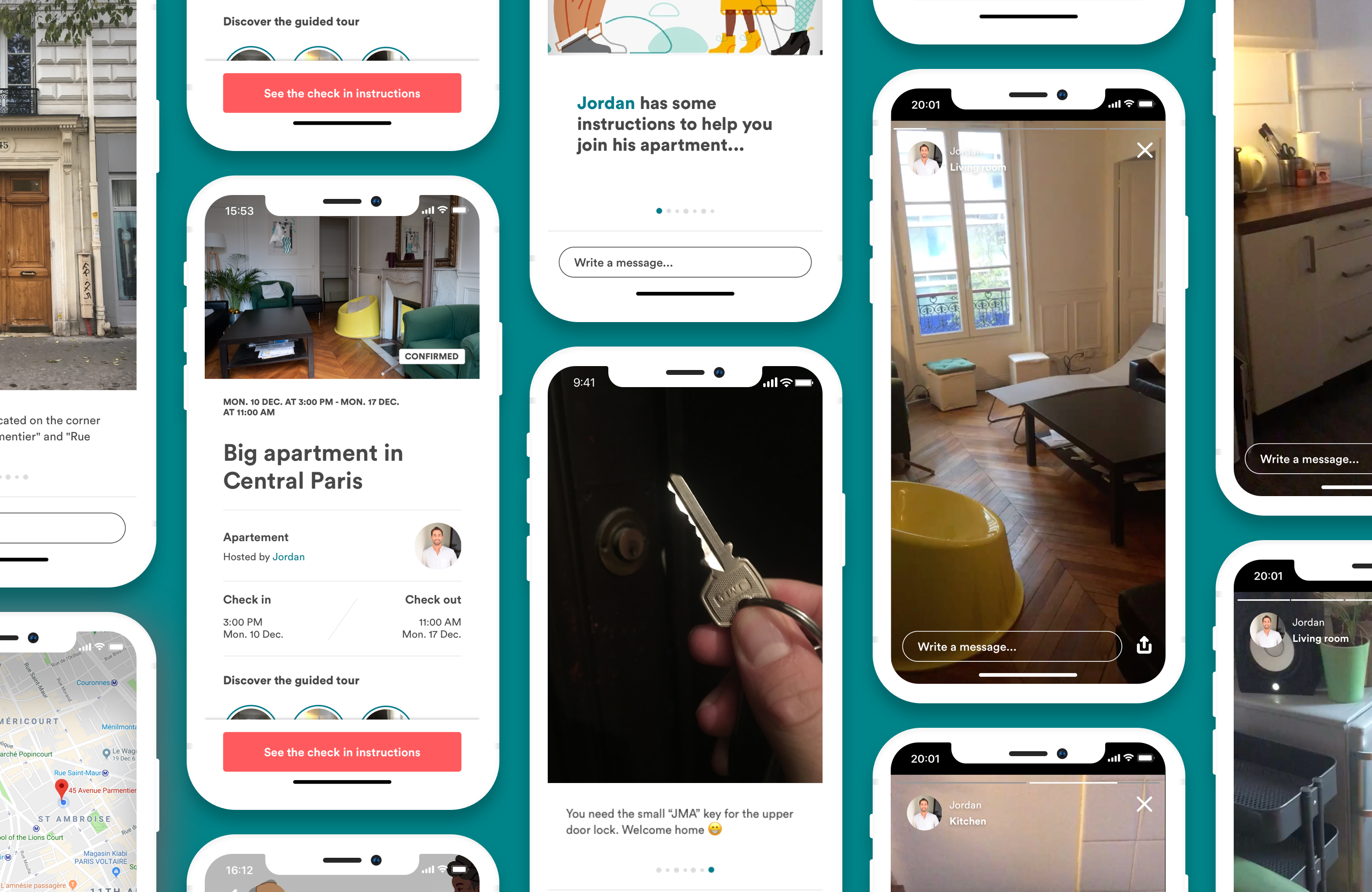 Airbnb -
Self Check-in Concepts

A design challenge for The Design Crew Batch#1 (2018)
OVERVIEW

Too long? If you don't have the time to read the full post, you can see a shortened visual version on my

Behance

.
With previous experience in Product Management, I decided at the end of this year to dig into Product Design to spend more time understanding people and build human-centered products. I attended The Design Crew, a French Product Design course where I had the opportunity to work on the case study detailed below with my teammate Lucas Steuperaert.
About the project:
Airbnb offers worldwide accommodations and tourism activities. When booking a home, guests and hosts work out details for checking in and exchanging keys. This case study explores the check-in process on Airbnb's iOS app and the way mobile can better leverage its functionalities to improve the user's experience.
The solution:
A new self check-in experience based on photos and videos that (1) help the guest to access the listing and (2) provides all the necessary informations within the house.
Timeline:
7 days spread over 7 weeks
My role:
Product thinking, User Experience Design, Interaction Design, Prototyping, User Testing
---
About the problem space
We did not have access to any user research or any other quantitative data from Airbnb. Therefore, we needed to find travelers using the platform to get a better understanding of what the main problem with their check-in experiences could be.
User research

Airbnb is a well-known service, and it's possible to find people using it quite everywhere in Paris. We conducted short qualitative interviews in coffeehouses like Starbucks. Of course, this kind of panel might not be representative of Airbnb's user base, and it's harder to avoid biases in such a specific environment. Nevertheless, with good people skills to put interviewees at ease, you can still gather interesting qualitative insights. We asked interviewees to tell us about their past Airbnb's experiences. We focused on how people interact with the host, how they manage the key exchange process and how they get access to the listing.
Beside these interviews, I dug into my personal experiences as a traveler using Airbnb. I had 32 conversations with hosts including 13 confirmed trips. Rummaging through your personal experiences with a product you are designing is an interesting thing to do as long as you are able to have a reflexive approach. None of us are detached, objective observers and I may be using Airbnb in a very different way from the real user base.
Research insights

Insight 1: It could be hard to agree on a check-in time slot because of many constraints for both the host and the guest.

There is no online check-in process on Airbnb. Guest and host work out the details for checking in and exchanging keys directly with each other. If there's no check-in or check-out time specified within a listing's description, check-in is 3:00 PM local time and checkout is 11:00 AM local time. A student interviewed in a Starbucks told us that "it's a bit annoying to have to find a time slot that fits." Hosts may have working hours constraints. In the following example, for a weekend in Normandy, my host told me that because of her work, we couldn't meet before 2:00 PM.
Host's constraints due to working hours: "I can, if it suits you, give you the keys at 2:00 PM, but before it will be difficult because of my work."
For another weekend in Brussels, my host told me that she couldn't be present at the listing address at the time of my arrival (9:30 PM), I assume for personal reasons.
Host's constraints due to personal schedule: "I will not be at the apartment at 9:30 PM to welcome you. Would it be possible to meet during the day for the keys?"
Guest too may have schedule constraints due to external dependencies like flight or train schedules. For a trip to Buenos Aires in 2016, my plane landed at 9:20 AM and I had to ask my host if it were possible to check-in early, forcing her to find someone who could welcome me.
Guest's constraints due to airplane schedule.


Some schedule constraints can be predicted, but some can't. What if your plane is delayed? What if you are stuck in traffic congestion? In the previous example, I underestimated the time of the landing process, forcing my host to ask her housekeeper to stay longer at the apartment.
Guest's unpredictable constraints.

All these experiences lead us to think about self check-in.
Insight 2: Guests regularly access home reservations without listing owners.

Looking at my past trips on the platform, I checked-in mainly (70%) with the help of friends / neighbors of the hosts, housekeeper or real estate agent. Another student interviewed in a Starbucks told us that "it does not matter who is there (for the check-in) as long as the information passed well". I asked a dozen of people around me, and more than half of them (60%) had already entered an Airbnb booking without the listing owner. Jeremy, a classmate, told me that during his stay in Japan, he had always collected the keys in a lockbox for the 3 listings he had booked. Enzo, another classmate, told me that during a weekend in Brussels he did not even have keys, everything worked with smart locks and passcode from the building door to the flat.
Insight 3:
Guests suffer from a simplistic communication process for self check-in
In the following example, I stayed a few days in Budapest with a friend. Unfortunately, my host wasn't able to welcome us. She first sent me the building code, the floor number and the flat number within Airbnb messages. Then she sent me pictures to help me found the keys by SMS. Unfortunately, I don't have access to this phone number anymore, but I remember that the host had hidden the key under a plant pot. We did not immediately find them and had to call her for help.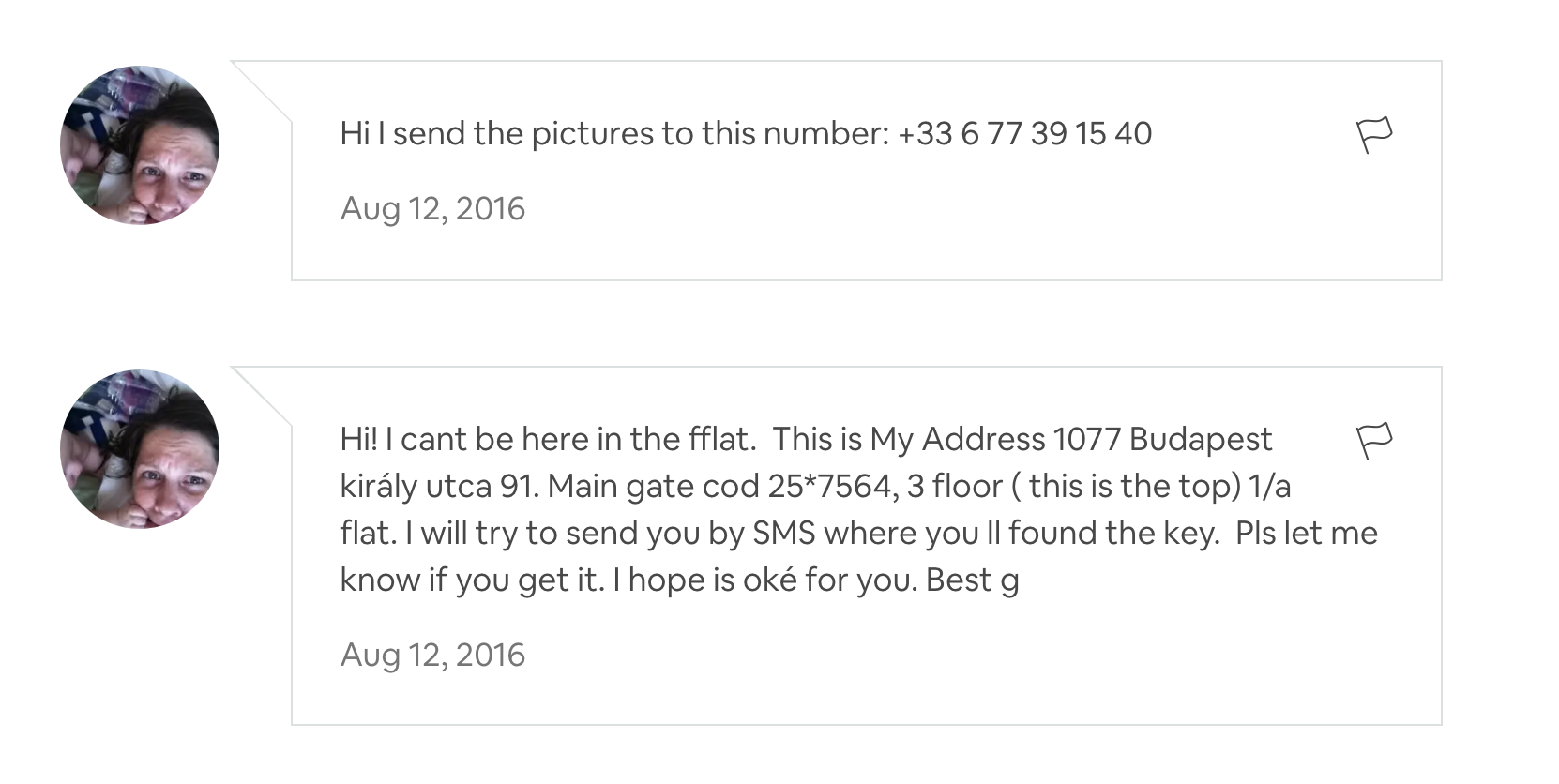 Hosts communicate instructions for self check-in through Airbnb messages or SMS
When you first receive this kind of information, even if it's accurate, you may have some apprehension. As humans, we do not feel comfortable with uncertainty, even more with people we don't know. In this following situation, some people could ask themselves:
Will I easily find the place?

What if the building's code is wrong?

Will I find the keys?
What if a neighbor sees me passing hecticly in front of the apartment?

These questions are even more legitimate because the way to access the flat is freely proposed by the host in a chat and doesn't seem "official." I heard about this kind of situations a few times and even if we don't have access to any Airbnb user research or data, I can imagine that some user could relate to my experience.
Self check-in solves the problem of host and guest agreement on a time slot, but it raises new questions:
How would hosts communicate the way to access the listing in a simple way?

How would hosts communicate practical information usually given during the check-in?

How would hosts offer a warm welcome without being there?

Since my trip to Budapest in 2016, Airbnb has worked on the first point. Hosts can add a small text-based self check-in instruction to their listings. However, I'm not sure it would have helped us with our keys hidden under a pot. I wasn't aware of this feature before working on this project, and neither were our classmates. We don't have any data on the use of this feature, but it does not seem to be widespread for now.
What people problem are we trying to solve?

As it could be hard to agree on a check-in time slot because of many constraints for both hosts and guests (insight 1), guests regularly access home reservations without the listing owner (insight 2). As a result, guests suffer from a simplistic communication process unapt for self check-in, which creates apprehension and leads to confused situations.
How do we know this is a real problem?

Without any Airbnb user research or data analysis, we don't have any quantitative evidence. Nevertheless, the way we led our exploration, based on interviews, interactions with users of Airbnb, and our own real experiences let us think that we have qualitative evidence and that the problem is worth to be solved.
How will we know if we have solved the problem?

If hosts and guests don't need to communicate anymore during the check-in because everything is going smoothly, the problem would be solved. Airbnb has 6 rating criteria for the host, and one of them is dedicated to the check-in quality ("Arrival: How smoothly did the check-in go?"). It would be meaningful to track two different group of hosts, one with the current solution and another one with the solution aiming to solve the problem.
---
About the solution space
Before explaining our design opportunities, I wanted to present the creative process that we used for this project.
Ideation

We first started by looking for inspiration on other products, especially marketplaces where supply and demand need to meet physically: carpooling, carsharing, ridesharing or food delivery. The European carsharing company Drivy which launched Drivy Open in 2015, is an interesting case to study. The service enables anyone with a driver's license to rent a car and unlock the vehicle using a smartphone, without meeting the owner. For this project, we did not had enough time to study and test the service in depth, but a benchmark would have been very useful.
Another early creative exercise was to build mindmaps around key concepts like "communication" and "check-in". It quickly helped us to diverge on other groups of ideas and related concepts. We also used the crazy8 method, a fast sketching exercise that challenged us to sketch eight distinct ideas in eight minutes. We finally ended up having a dozen ideas with storyboards among which we decided to explore 2 of them.
Design opportunities

During our ideation process, Lucas, inspired by Instagram came up with the idea of using other media formats like photos and videos to help better communicate throughout the check-in process. We thought the starting point was inspiring. Hundreds of millions of people are used to interact with their friends with images or videos, sometimes with filters, lenses, reactions or emojis. All of this content could be easily be built from any smartphone. We came up with two complementary concepts that cover two different parts of the check-in.
Arrival instructions
As seen with the example of my trip to Budapest, when you need to access a listing alone, you need some help from your host: the accurate location of the listing, the building code, the floor number, the flat number or the way to get the keys, for example. Depending on the situation of the listing, it could be any other information.
All of this information could be contextualized with a step-by-step guide with images from the host. Below you can see the first storyboard of our first concept, the arrival instructions.
Arrival instructions: a step-by-step visual guide created by the host to help the guest access the listing alone.
Instructions translated in english:
The apartment is in the east of Paris
The building door is located at 45, avenue Parmentier.
You can pick up the keys in the concierge's room.
The apartment is on the second floor, right door.
You can use the green key for the top lock.
Guests can see arrival instructions 3 days before their reservation starts, so they know how to access the listing beforehand. D-day, they just have to follow the step-by-step visual guide available offline.
Guided tour
The second concept was a video guided tour within the listing offered by the host. The concept is inspired by Snapchat, Instagram and Facebook Messenger stories: short videos shot by the host on the Airbnb app to offer a quick visit with all the practical information usually given during the physical visit. For this concept, we didn't even sketch anything with pen and paper except a first visual representation of the idea drafted in 1 minute, during the Crazy8 exercise.
Prototyping and user testing

Macro approach
We quickly built up a simple screen-to-screen prototype to first put to test our concepts with real people on a macroscopic approach.
We put the arrival instructions on swipeable full-screen cards. Each instruction has a photo and a piece of text written by the host. For the first prototype, we took fake photos from the internet and invented text instructions. A small picture of the host, helps the guest to understand that every instruction is created by the host.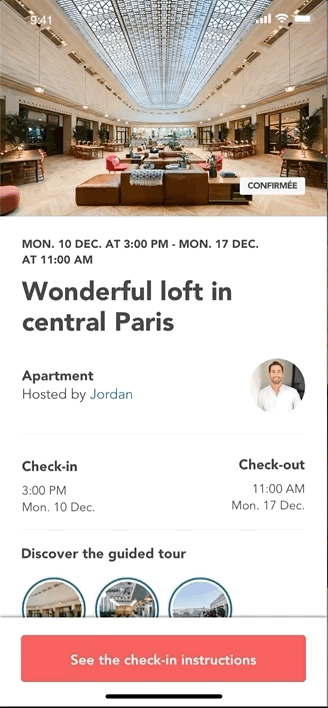 The instructions are available a few days before the trip and after the host confirmed the booking. As it's the main action to perform at this stage of the user journey, we used the floating element and the primary button on the listing page.

Concerning the guided tour, the videos are available at the will of the guest. We put them on the confirmed listing page, under the check-in and check-out time, and above the picture of the guests. We weren't able to add videos on this first prototype, so we used pictures instead, and talked about videos with the first interviewees.

We then wrote down a simple test scenario with tasks and related questions to assess the whole user flow, the global comprehension of our concept and if the solution were valuable for users.

With this simple prototype, we did two user tests with experienced Product Designers who were mentors and lecturers in our program. It's not the best practice to conduct tests with such specialized profiles, especially experts in design, technology or business. Therefore, the challenge was to exchange with the Airbnb user and not the designer.

Both tests provided interesting results, and we quickly needed to build a high-fidelity prototype.


Micro approach

Our two concepts are gesture-based user experiences with a lot of swipe, flick or hold gestures. We want people to be able to navigate through pictures and videos the same way they are used to with the application whey use every day like Facebook Messenger, Instagram or Snapchat. With a tap limited screen-to-screen prototype, we couldn't simulate realistic interactions.

Building a high-fidelity prototype takes more time, but in our case, it was worth it. We have been able to iterate over our visual design, to build a better affordance, to work our gestures, the copywriting and the content.

An important step was moving from fake content to realistic content. I took some pictures to help potential guests access my apartment in Paris. I also recorded a few short stories within my flat to explain for example how to turn on and off the gas, or where are the box and the WIFI password. Creating my own content, as if I would have been a host on Airbnb, helps me better think about the two features.




User testing


I tested the high-fidelity prototype with my roommate and two other friends. Testing with people you know is never the best solution because it could lead to many more biases. One simple example is the confirmation bias where your friend will have the tendency to favor and recall information in a way that confirms your preexisting belief. It is even more important to properly introduce the test and create a climate where the user does not feel tested or judged.


User testing results for the arrival instructions

The concept was highly appreciated. Users enjoy having personalized consideration from the host: "I like it because it's the host who talks to me" (Jeremy). Some strongly expressed the usefulness of the functionality: "it's no more a mess (to access the house)" or "you have less apprehension" (Samuel). Gwendoline remembered previous experiences by saying that "often there are listings locations that are poorly indicated".


User testing results for the guided tour

This concept too, was highly appreciated. 4 out of 5 testers were Instagram active users, and they promptly associated the concept with the social network. The feature also creates a kind of excitement: "I want to see what it is right now"(Samuel). Jeremy told us that he wanted to motivate his friends by sharing the stories. Everyone understood that the content was created by the host and this proximity is highly appreciated.



---
Conclusion



With this case study, our goal was to improve the check-in experience. Without any Airbnb user research or data analysis, we have been able to gather qualitative insights and found a problem that we thought was worthwhile solving. We focused our attention on self check-in and discovered that guests suffer from a simplistic communication process, not adapted to this frequent case.

We created a new self check-in experience based on photos and videos that (1) helps the guest to access the rental and (2) provides all the necessary informations within the house. The first user tests we released convince use of the solution's ability to solve the problem. Nevertheless, to go further we need quantitative validations. These concepts are only applicable according to the hypothesis that hosts are willing and able to create content: picture for the arrival instructions and videos within the listing. These points have not been tested in this project but are required to go further.



Personal lessons learned


This project was my first end-to-end product design project as a Product Designer, and it was a pleasure to work from the problem discovery to the user tests of our designs. I'm even more convinced that with modern tools, this cycle could be drastically reduced aiming to spend more time testing and understanding people and less time guessing what they need. The more time is spent with people, the better the design gets.

To carry on learning, I will reproduce this exercise with another application I like. If you are interested to be part of interviews or user tests, feel free to contact me at bergantz.clement@gmail.com